The first novel in the DI Marjory Fleming series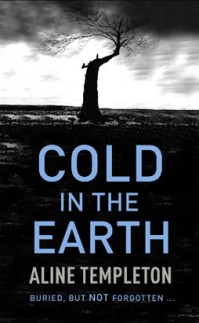 As the devastating foot-and-mouth virus kills cattle and destroys lives, DI Marjory Fleming finds herself brought into conflict with the farming community which has been her world.
Pyres are built, infected animals are burned and buried in pits.  But the stench of death develops a horrifying edge when human remains are dug up near   the Galloway market town of Kirkluce.
A woman called Laura Harvey resolves to unearth the dark secrets of her past.  Determined to discover the truth behind her older sister's disappearance fifteen years before, her journey brings her to Galloway, to a world of fear, suspicion and menace.
A dead body, a missing girl, and a mysterious family's dangerous obsession with bull running provide a sinister background to DI Fleming's first case.
Cold in the Earth was an Ottakar's Crime Novel of the Month
Cold in the Earth was fourth in the Independent's ten best mysteries of the summer (2005) and the paperback was Ottakar's Crime Novel of the Month (January 2006)  It was a Scottish bestseller.
Hodder & Stroughton – 2005, ISBN 978-0-340-83855-6
Large print: Ulverscroft,   ISBN  978-1-84617-124-5
CD and cassette: Oakhill, ISBN  978-1-84648-100-7
Buy from Amazon
Also available for download on Kindle
[Marjory Fleming] Is a great creation.

The Bookseller
An unalloyed pleasure – an intelligent, character-driven crime novel.'

Andrew Taylor, The American Boy.
Aline Templeton has demonstrated that, just when we thought Scotland was saturated with detectives, a strong woman can elbow her way in and find a unique niche.

The Scotsman
A good, well-crafted British mystery.

The Independent
This is a book for a long train journey or a wet weekend with no other demands, the better to immerse oneself in the strongly-delineated characters, complex plotting and rich allegory: a really satisfactory read.

Mystery Women
Please write some more, Mrs Templeton!

Ottakar's review.